Yoga like you've never heard it.
Yoga studios from Hong Kong to New York have taken their students to another level with Sound Off™ Yoga — guided yoga sessions that immerse their students in the beauty of the moment using our GLO EXP wireless headphones. Sound Off™ Yoga gives studios and event organizers the ability to stage captivating yoga sessions that brings attendees closer to the experience, and elevate their brand in a competitive market.

This is a unique and innovative journey of flowing movement and sound. To the outsider, this is a silent combination of movement and breath. To the practitioner, the Sound Off headphones provide a sound vibration that inspires, empowers, and revitalizes the mind/body/spirit, allowing transcendence at a whole new level. Float away from this unforgettable experience right into the evening and enjoy the lasting chill vibes all night long!"
— Jennifer Pansa  |  Owner, Ansa Yoga, Miami
How it Works:
The Sound Off Experience team will help you execute your event end-to-end, arriving with at your venue with our unique LED wireless headphones.
You choose what to broadcast to your class.  Your favorite mix,  one of our Sound Off™ Certified mixes, or a live DJ! We'll patch your instructor in over your chosen music.
Pick your venue, promote it, and make a splash: The 200-yard range of our transmitter lets you offer a unique guided experience almost anywhere — giving current students a welcome surprise. They will have never experienced anything like this before!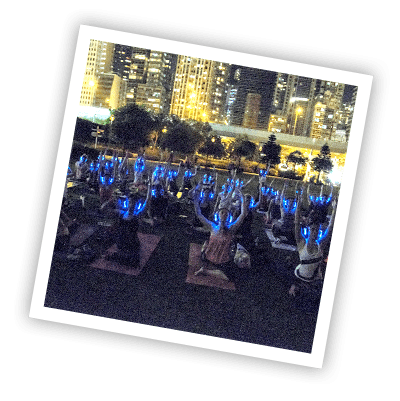 My students were all dressed in colorful yoga clothing, reminding me of a school of fish as they moved in synchronicity among the rest of the people in the park. How different our reality seemed to the ordinary, silent world of the onlookers! The whole experience gave us immense joy and we can't wait to do a Sound Off Yoga session again."
— Melanie B  |  Owner, Yoga BamBam, Hong Kong
Bring Sound Off™ Yoga to your event today!