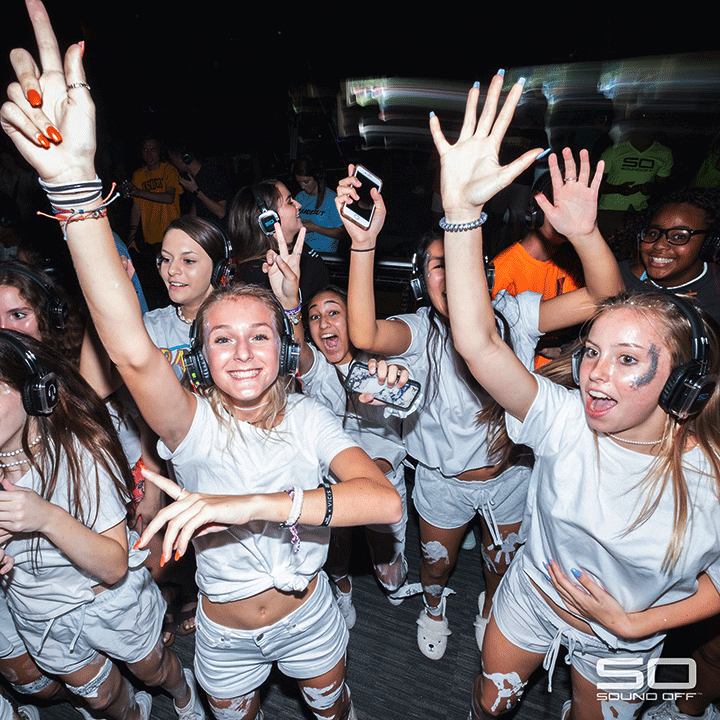 High-Fidelity Fellowship: Host a House of Worship Silent Disco
Silent discos aren't just for nightclubs. They can be an important way for communities to come together. 
Churches, mosques, synagogues, and other houses of worship around the world are using Sound Off™ technology to host silent discos for the younger members of their congregations.
Our noise-isolating headphones stream high-fidelity sound and glow with colorful LED lights — it's a unique, exciting dance party that will feel like a brand new way for members to connect. Attendees can choose from multiple channels of music with the flick of a switch, so everyone will find something they love. 
Multiple DJs can spin tunes, or curated playlists from Spotify, Apple Music, or Tidal can be streamed. Each youth-group member can adjust the volume on their headphones to their liking, and hang the headsets around their necks for easy conversation.
Sound Off technology offers unlimited options for a silent disco setting. The event can take place inside of a house of worship, outside on the lawns, or at camps and retreats for a special new group activity. Our long-range RF transmitters ensure every person hears the same crisp audio, no matter the location.
It's such an unforgettable experience, kids will talk about their silent disco experience long after they've attended the event, and its fresh, of-the-moment vibe is an exciting way to attract new members, too.
Our headphones can also be used for multiple-group text study in a single large space. If several age groups are meeting for separate discussions in one room, our headsets help students hear their group leaders clearly and focus easily, even if another group is sitting right next to them.
Our silent disco technology can truly foster connection and build community, while providing a safe space for kids to gather, have fun, and bond in meaningful ways.
Ready to bring silent disco headphones to your house of worship? Contact us now!