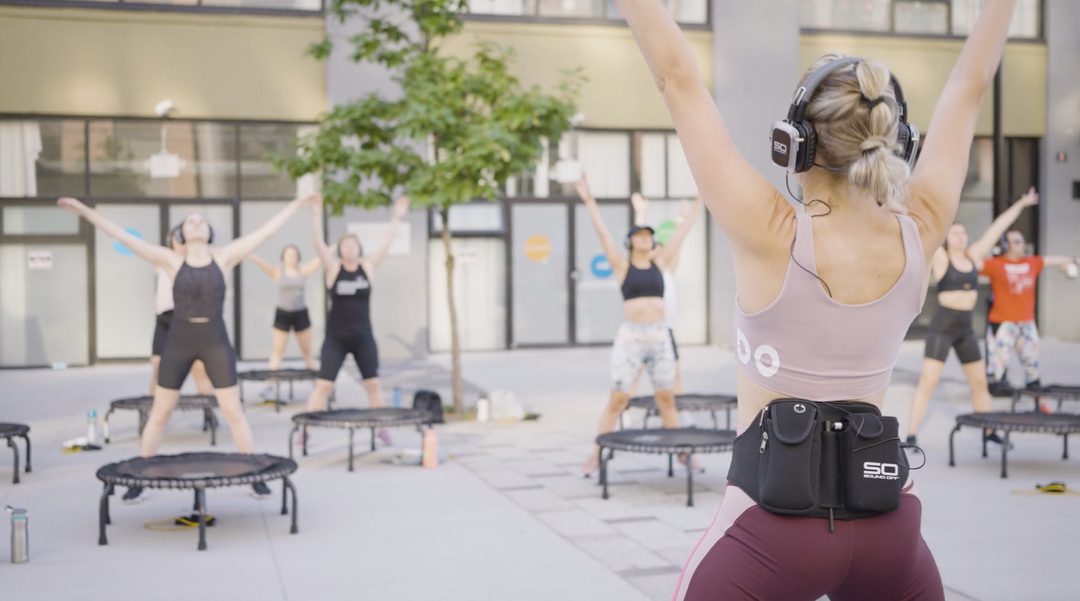 ON THE GO WITH THE MVP PRO
Teaching a fitness class? Leading a walking tour? Need to be mobile while you speak at a conference or workshop? The Sound Off™ MVP Pro is the answer — it's a custom set with all the essentials you need for high-quality silent disco technology on the move.
What You Get: 
E-mic headset 

Bolt 2.2 Transmitter 

Comfortable Hip Pack
How It Works:
The Bolt 2.2 Transmitter connects easily via bluetooth to an audio source such as your phone, so you can stream music in crisp audio through your participants' Sound Off headphones. With the E-mic headset, you can broadcast your voice at an adjustable volume on top of the music, guaranteeing your instructions will be heard clearly throughout the event.
We've custom-designed the Hip Pack to fit comfortably and move with you, no matter how many jumps, lunges, or stretches you demonstrate, or how much walking you do while speaking. The pack features secure pouches for the transmitter and audio source with convenient access to controls. Setup is easy, and customizing it to your needs is simple.
Hold your event inside a venue or at your favorite outdoor spot — the crystal-clear audio will reach anyone wearing our headphones within 300 yards. 
The MVP Pro gives you the flexibility to create the events or classes you want, anywhere you want, while connecting you seamlessly to your audience in high-fidelity audio.
Ready to jump in? Contact us to learn more about how the MVP Pro can work for you.