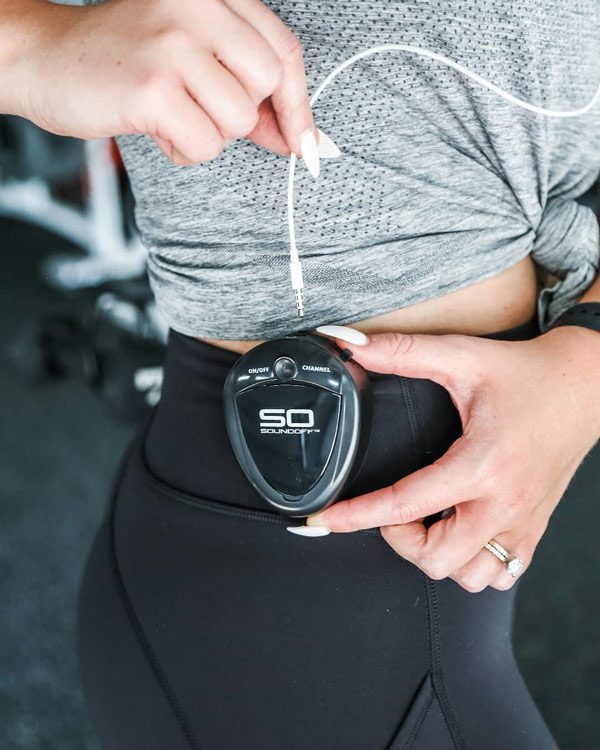 RECHARGE YOUR FITNESS CLASSES WITH THE BYO RECEIVER
Running studio classes every week with Sound Off™️ headphones? Loving how the crisp audio and high energy pump up your students? Now you can give your members an added perk when you incorporate the Sound Off BYO Receiver into your studio offerings. 
Some students may prefer to wear their own headphones while working out, and it's super easy to allow them that personalized experience. All they have to do is plug their headphones into the BYO and go.*
Here's how this silent disco technology changes the game, keeping your events immersive, mobile, and totally focused:
Sturdy casing and belt clip

:

The BYO receiver is built for on-the-go classes. No matter how hard your students work out, their own headphones remain connected to your class's audio for a seamless experience.

Up to 3 available channels, with one-touch adjustment and LED indicator lights:

The intuitive design promises ease of use and flexibility every time.

Ergonomic multifunction button

: The BYO is designed for quick, effortless control during any type of workout or wellness experience.

Up to 11 hours of battery life

: You won't waste time recharging the BYO after every class — it keeps going strong throughout repeat cardio, spin, and HIIT sessions.

Any headphone can connect with just an auxiliary cable

: This means every member in your studio can enjoy the option of using their own wired headset.
The BYO allows you to provide more options to your members and keep them happy and focused during class. And it's so easy to use —  it's a no-brainer!
Want to expand the possibilities for your studio and students now? Contact us to learn more about the BYO receiver and how it can work for you.
*Only wired headphones can be connected to the Sound Off BYO receiver. The BYO receiver cannot connect to bluetooth headphones.