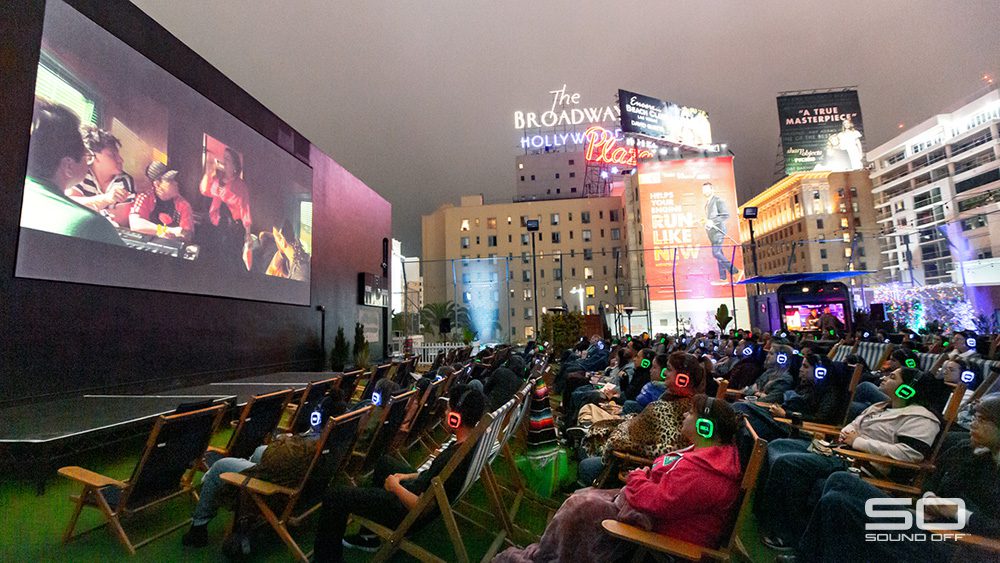 Rooftop Movies at the Montalban x Sound Off™️
Picture This…
Rooftop Movies at the Montalban is Hollywood's own open-air cinematic sanctuary. With its fully stocked bar, complete kitchen, huge projection screen, newfangled projector, Sound Off headphones, classic theater snacks and even blankets – this rooftop experience is a film buff's bliss. The Montalbán presents a fresh batch of films from all eras and genres including feature films like Hair Spray, Boyz N The Hood, TOP GUN, and even Beauty and the Beast. Our wireless technology turbocharges the motion picture experience with world class, noise-canceling, audio that's crystal clear. "If you're a film enthusiast, you know that most films are very driven with emotion and soundtracks and if you don't have the right sound, you're just going to lose half of the experience. Sound Off delivers the full experience" says Ricardo Ortiz-Barreto, a producer at the Montalban. "Sound Off gets rid of the outside noise without blasting the neighborhood. Its incredible because people come to us for relaxation at a fraction of the cost of a psychiatrist." 
Now how's that for a movie night?
Mission Accomplished
Founded in 1999 by Mexican actor and linguist Ricardo Montalban, The Ricardo Montalban Foundation & Theatre was designed to provide an authentic platform for Hollywood's LatinX community. The company's mission was to cast a positive light on the underrepresented sector via quality artistry and production. Years later, Sound Off and The Montalban became acquainted by GROOV3's Ben Allen who was hosting dance classes on the famous rooftop with the headsets. "We have a sound policy that we have to adhere to control the noise", says Mr. Ortiz-Barreto. "We had been using shared signal headsets and they just kept breaking. We were looking for something that was durable with great sound quality".  Sound Off was everything the Montalban needed. 
Try It, You'll Like It!
From basketball games to skateboarding competitions and dance parties, The Montalban is constantly finding new ways to build entertainment in the open air at night. Join the theatre this summer in celebration of its 5th year of Rooftop Movies at The Montablan with a gamut of classics ranging from Pineapple Express, Boyz N The Hood, Beetlejuice, Django Unchained, Mars Attacks! and Tropic Thunder. Guests are invited to grab a burger (meat or plant-based), a drink (spirited or virgin), a beach chair or a loveseat and enjoy the show. 
Doors open at 6 PM.
Click here and reserve your ticket now!