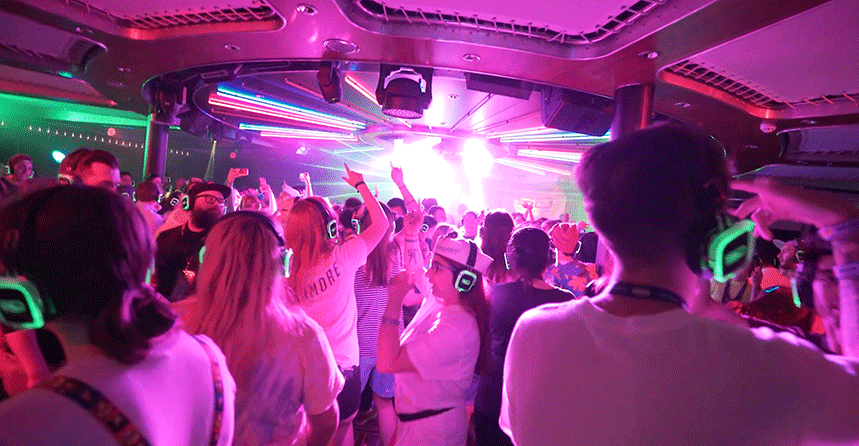 Set Sail with Sound Off®: The Silent Disco Cruise
What could be more exciting than a cruise vacation? It's five to seven days of pure escape, with vast ocean views, endless entertainment and activities (from pools and hot tubs to climbing walls and ice rinks), and exciting port adventures.
Then there's the on-board silent disco…that's when the fun really amps up! Today, more and more luxury liners are adding silent disco cruise experiences to their nightlife options, and Sound Off® is supplying the state-of-the-art tech for a truly epic time on the high seas.
Let's say you check out the Wednesday night live entertainment — you're in the mood for great music and letting go on the dance floor, but the style of that night's act just isn't your jam. No worries – the on-board silent disco dance party is the perfect alternative. With multiple channels of music to pick from, you'll find just what you want to move to. 
The collective vibe is immediate, with DJs spinning the best mixes in high-fidelity sound while the space lights up with your headphones' colorful glowing lights. Are you getting down to the green channel? It'll be easy to find (and mingle with) other passengers with your same excellent taste in dance music. Want to strike up a conversation? Just put your headphones around your neck — there's no need to shout since there's no amplified sound.
Silent discos can take place anywhere from an upper deck to lower level night club, with a spectacular ocean view each time. Wherever you tune in, it's a bash you'll never forget and the guaranteed highlight of your cruise vacation dreams!
So in between blackjack at the casino and mini golf on deck 15, groove on over to a silent disco cruise experience. It's the best way to celebrate your escape voyage from the real world — and the ultimate way to rock the boat.
Want to host your own silent disco on a private boat excursion? Contact us and we'll make sure it's a super sonic sail.