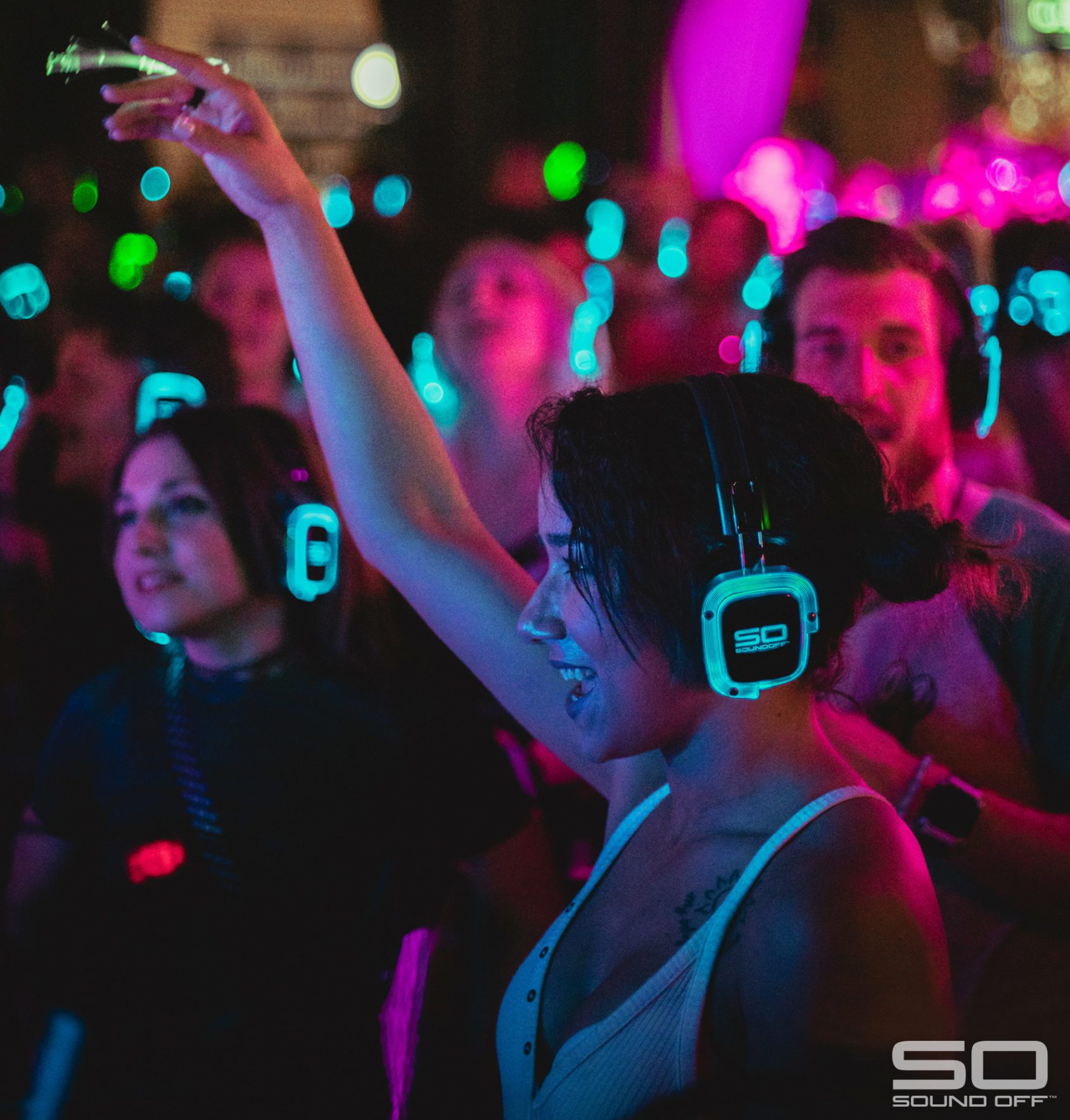 Silent Disco Technology: What Is It and What Can It Do?
Here's where we break it all down for you — what a silent disco is, how Sound Off has evolved silent disco technology to create innovative experiences everywhere, and how we offer an easy solution to so many of today's logistical restrictions. 
The Silent Disco Origin Story
It all started over a decade ago with a fresh spin on the dance party: Silent disco technology isolated music to the guests' ears only, allowing otherwise loud parties to be held anywhere, anytime. At a silent disco bash, attendees fill the venue wearing glowing headphones, dancing to the channel of music they love most. The headphones' LED colors light up the space, and the energy is amped. Anyone who wants to take a break and chat can do so easily without yelling over the music. A silent disco party is a unique and exciting experience for every guest, but complete silence for anyone nearby.
What Does Sound Off's Silent Disco Technology Offer?
Sound Off's wireless, noise-isolating headphones feature exceptionally crystal-clear audio. They provide individual volume control and up to ten channels of high-fidelity sound, with corresponding glowing LED colors. With our long-range RF transmitters, events can be held indoors or out, at any size venue. Our noise-isolating technology creates an immersive participant experience that's silent to onlookers every time. ​​We offer setup support virtually or on-site so there's never any tech headaches for you.
How Has Sound Off Evolved Silent Disco Technology to Create More Unique Experiences?
Sound Off facilitates events in ways that have never been possible before, creating access and experiences (even beyond the late-night dance party) that defy all previous limits of space, time, and sound restrictions. Today, our state-of-the-art technology is bringing people together everywhere, from fitness studios and conferences to art galleries and retreats. We offer an easy solution for social distancing and facilitate virtual events as well. See all the expansive possibilities here.
What Problems Does Sound Off's Silent Disco Technology Eliminate?
• Varying tastes in music:
Multiple channels of music keep everyone happy at your silent disco wedding, bar mitzvah, or corporate party. From hip hop to Latin to golden oldies, silent disco is the music to everyone's ears and helps a diverse crowd enjoy a collective experience.
• Noise complaints and time limits:
Never again worry about nearby venues or NIMBY neighbors. Silent disco events can happen in backyards, locations next to other businesses, parks, parking garages…the options are endless. Start early and go late — no one will hear a thing.
• Distractions:
Holding an event outside? Our noise-isolating technology will block out traffic or other surrounding activity for your participants. Yoga and meditation students focus easily and transport to a balanced, centered state, whether in-studio or in the middle of a busy wellness event. Our headphones keep everyone in the zone.
• Expansion:
Demand from your guests or members is growing at a fast pace, and you need more room to hold events. Our technology allows you to expand outdoors into parking lots for cardio classes or rooftops and patio spaces for epic celebrations. 
• Accessibility:
For those hard of hearing or at the back of a large venue, silent disco technology is the answer to catching every word and moment of the event. Sound Off also enables translation for attendees at conferences, tours, and more.
Still want to know more about how silent disco technology can work for you? Contact us now!