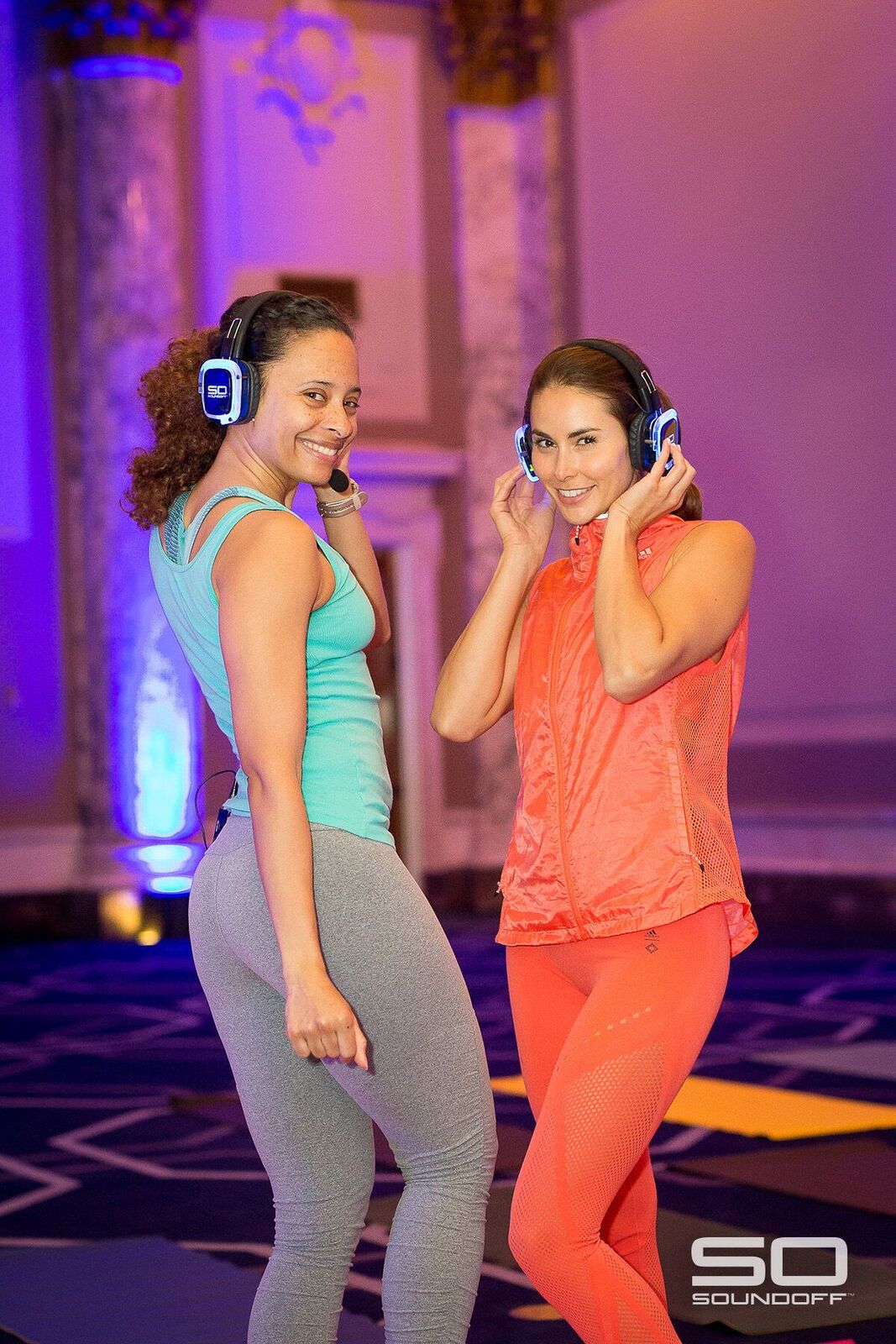 Sound Off™ Dale Dazzles the City
Sugar x Spice x Everything Nice
For most of us, the sweet and spicy rhythms of salsa, Latin jazz, and Afro-Cuban beat drum up images of tropical sunsets and spirited beverages accessorized with fruit. Sound Off™ Experience and Insider Insights served NYC with a generous helping of Caribbean flavor at the world premiere of Sound Off Dale. This sexy, 60-minute Latin-inspired vinyasa flow experience included bilingual meditation and Yoga Nidra. The spiritual sweat session got seriously Zen under the tag team guidance of Jazmin Tejada and Jennifer Pansa. Sound Off headphones allowed guests to hear their smooth-as-velvet voices perfectly over a muy caliente soundscape curated by DJ Lety Love.
Perfecting the Practice
Jazmin and Jennifer alternated between instructing the class and polishing poses in the crowd. They paced the W Hotel's Great Room straightening backs and lengthening limbs. DJ Lety Love's nod worthy playlist encouraged students to pulse with music.  You haven't turned up until you've done the cat pose to a Pitbull instrumental. The unapologetic bursts of percussion instruments coupled with sassy horns and whimsical piano notes inspired yogis to stay present and enjoy the process. Guests were even given the option to listen along in Spanish during an extended shavasana. "Sound Off elevates exercise in the most amazing way! These headphones are a serious game changer." said NY-based host and lifestyle expert Melanie Sutratheda. "Sound Off Dale had me smiling from ear to ear throughout the entire class."
Beyond the Mat
Most noteworthy, Jazmin and Jennifer took even more time to nurture the class during the cool down. "It's always your choice at any moment to let go and cultivate that which you are seeking," said Jennifer Pansa. "Remember to stay open" quipped Jazmin. Guests left class glowing and laughing. After class, they were treated to Bai drinks, facials from Jolie Beauty Bar, and a digital photo booth.
Sound Off Dale was sizzling! Have a look at photos from the event here. Listen to the live mix below.
[soundcloud url="https://api.soundcloud.com/tracks/331947298″ params="auto_play=false&hide_related=false&show_comments=true&show_user=true&show_reposts=false&visual=true" width="100%" height="450″ iframe="true" /]