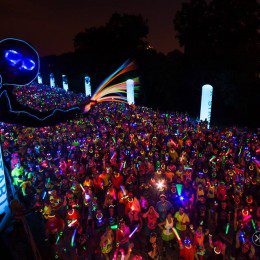 Sound Off Teams Up with Building Beats for Electric Run
Building Beats, a registered nonprofit that uses DJing and music production as a vehicle for teaching kids entrepreneurial, leadership and life skills, is the official charity partner of this year's Electric Run New York on September 5th & 6th.
Aside from providing volunteer muscle, Building Beats will also be contributing to the sensory overload that encapsulates the Electric Run. For that purpose, they turned to Sound Off, who is providing wireless headsets for those who drop by the Building Beats booth.
"We're really excited about using those light-up headphones in our booth," said Conlan O'Rourke, Co-Founder of Building Beats with Sophie Solomon and Phi Unit. "They will draw people to our interactive music experience and fit perfectly with the overall theme."