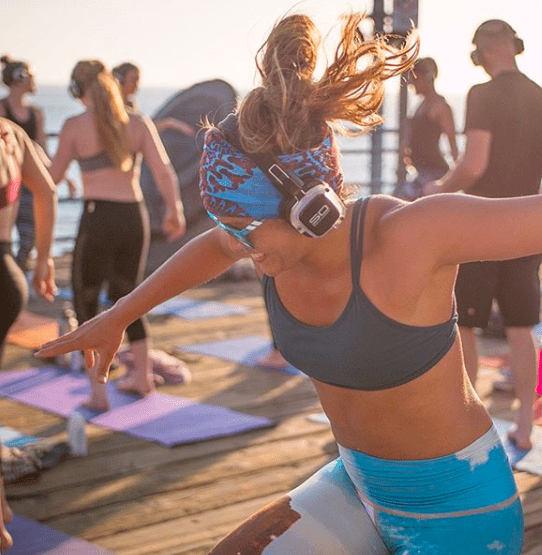 Let Go and Let Yoga: How BENDER Flow Blends Music, Art, and Culture for Elevating Experiences
The Medicine of Movement
Before BENDER Flow — a social event powerhouse for the body + soul — Founder and DJ Justin Henderson played rugby and worked in health care while working on his Master's degree. "One of my classmates who was also a yoga teacher suggested that we take yoga once a week as a break from our studies. I started checking it out as a way to gain more flexibility and recover from rugby," he says. Justin became increasingly interested in lifestyle health and how people took care of themselves with yoga and music. He left his job in healthcare and moved to LA to focus on his converging interests. "Yoga was this really powerfully uplifting thing where some moments reminded me of feeling free and light and full of energy like really good moments on the dance floor. This is how BENDER Flow came to be. I started experimenting with putting music and yoga together and rounded up a team of yoga teachers, DJs, designers and other collaborators. We did a couple of events that went better than expected and we kept building from there," he says. Justin has been adding more concepts and event series that pull the Spirit of what he wants people to feel—  that feeling of being in the moment, letting go and feeling light while doing something constructive.
No Risk, No Reward
BENDER Flow hosts events in Chicago, Los Angeles, and Melbourn, Australia. It's mission is for people to explore, enjoy, and connect via yoga, dance, music, art and culture with inspiring events. Justin has been using Sound Off™ headphones to enhance different events and creative experiences since 2014.  "I got connected with Sound Off doing one of the most fun events we ever did." says Justin about his midnight rooftop yoga collaboration with Soho House in Chicago. "We thought it would be fun to host a yoga session on this rooftop deck but there were two problems: 1) The venue didn't close for business until after 11 PM and 2) there were a few noise restrictions to be navigated." Sound Off's technology canceled out the sound ordinances and BENDER Flow's Midnight Full Moon rooftop yoga series was born. Justin wasn't sure how many people would come out at Midnight on a Friday for yoga with new technology but the turnout was spectacular. "It ended up being our most popular event that year," Justin reported. "We even had to close our wait list. Everyone loved it, it was a great time."
Tech, Please!
BENDER Flow has since partnered with companies like Skyspace LA, Spiritual Gangster, W Hotels and SoFar Sounds to host creative experiences. "A yoga teacher in LA once told me that it's almost like people get more comfortable in class with Sound Off headphones than without them" he said. "I was so impressed with that and I knew I wanted to share that with people". BENDER Flow offers a monthly series on Sunday mornings for rooftop yoga and brunch at a venue called ROW DTLA with a beautiful view in Los Angeles. "You can see the whole city. Mountains, the skyline, even all the way to the water on a clear day. It's not feasible to bring sound equipment up there so the headphones are just perfect," says Justin.  "We also throw a nighttime social event with Sound Off headphones so people can connect and interact around things with a higher vibration. We have dance parties where people can join electronic sound baths in a side room," says Justin. Thanks to Sound Off, there's absolutely no sound bleed from the party. "Everyone that used the headphones found it was a great way to get into their own space, drop into the experience more, and let go." 
"From sound baths on the tallest observation deck in LA to rooftop yoga + brunch, BENDER Flow has plenty of "FLOW + FLAVOR" to offer, click here to join their invite list!