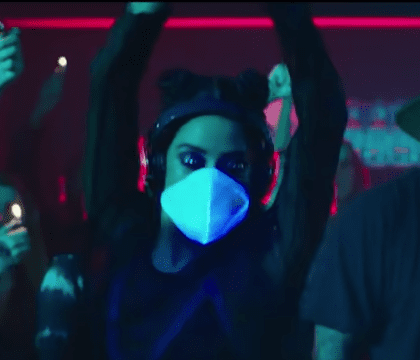 Muévelo: Long Live Music!
Reggaeton icons Nicky Jam and Daddy Yankee have reunited for the first time in over a decade to bring us Muévelo — a newly released anthem featured on the star studded Bad Boys For Life soundtrack.The music video for Muévelo – which is Spanish for "move it"- takes us to a world where music has been outlawed. It's crazy. Signage with warnings like "No Musica" and "Playing Music Is Strictly Prohibited" outfit the streets while police enforce the new law against an angry society in full riot gear. For music lovers, the situation is dire.
Not to be oppressed, Nicky Jam, Daddy Yankee and a dancing mob riot in the street, block a highway and even host a party undetected at an underground Silent Disco. Guests wear wireless headsets and dance to the instantly recognizable sample from the 1994 reggae hit Here Comes the Hotstepper. The video has racked up more than 42 million views in just one week. 
Our technology has become increasingly popular in the media. The concept was created by eco activists in the 90's to minimize noise pollution. Decades later, Sound Off is proud to be the #1 silent event production company in the world. From New York to Hong Kong, be it for Silent Disco, wellness and meditation, music festivals, sporting events, corporate affairs, and even album release listening parties (like the ones we hosted for Cardi B and the Migos), Sound Off headphones provide the perfect AV solutions for any event. 
But don't just take our world for it, see it in action for yourself with Muévelo!