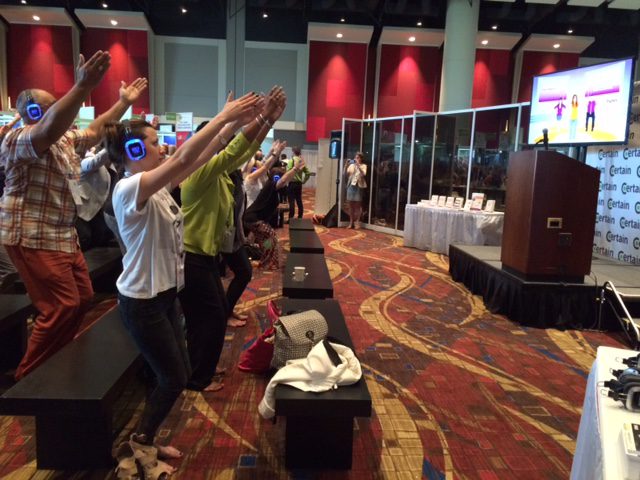 Sound Off and X Bytes Bring Wellness to the Workplace
While we love silent discos and silent running events, you don't always have to get your sweat on to fully experience the benefits of Sound Off headphones.
Kim Bercovitz, Ph.D., or Dr. Kim, of X bytes, brings fitness and mindfulness videos as well as wellness micro-breaks to conferences, meetings, and the workplace. She offers "byte-sized" wellness talks, fitness tips, and exercises to give employees and attendees instant energy and a quick recharge.
Dr. Kim offers all of these productivity-boosting activities at conferences, where participants are often sitting for hours at a time. During breaks between sessions, they can come to her Wellness Lounge and feel totally recharged. Her Wellness Lounge is often placed in high traffic areas, making relaxation and concentration difficult. That's where Sound Off headphones come in.
"The headphones combat ambient noise and create a private, intimate experience," Dr. Kim explains.
Participants can totally connect with Dr. Kim's videos, and get the most out of their wellness breaks.
"The headphones add a wow aspect and a different dimension to the experience," Dr. Kim continues.  "And because we have yoga and mindfulness videos in high traffic areas, where there are a lot of people and a lot of noise, the headphones mean there are no barriers anymore."
To learn more about Dr. Kim and X bytes, click here.