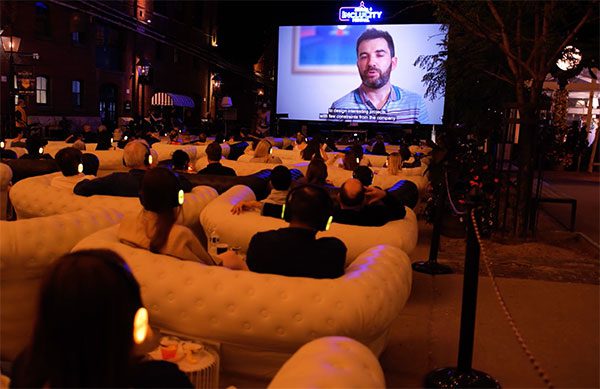 SOUND OFF® STORIES: OUTDOOR FILM SCREENINGS AT THE ICFF
Cristiano de Florentiis needed a creative solution when the state of the pandemic prevented him from hosting indoor film screenings at his festival. 
As Co-Founder & Artistic Director of the Italian Contemporary Film Festival (ICFF) in Canada, de Florentiis wanted more than anything to deliver high-quality sound to audiences, keep them safe, and give them a unique, immersive cinema experience they'd never forget.
So this summer, the 2022 ICFF incorporated Sound Off® silent disco technology into their outdoor cinematic village on the cobblestone streets of the Distillery Historic District of Toronto, as part of their Lavazza IncluCity Festival. The result was an unforgettable, immersive experience for festival-goers.
"Sound Off™ headphones provided an incredible solution for us to offer outdoor screenings late at night or in the middle of the day in the midst of a very busy public space," says de Florentiis. 
Attendees enjoyed the headphones' comfortable fit, excellent sound quality, and individual, customizable volume controls while they relaxed on luxurious couches and took in the latest and greatest in Italian cinema. Even the films' stars and directors loved the experience of a "silent" screening.
With Sound Off equipment, de Florentiis was pleased to offer the same epic-quality audio that an indoor-cinema amplified sound system could provide, but in a new format and setting without disturbing anyone nearby. Because of the headphones' noise-isolating technology, audience members were able to focus on the film before them and get the most out of the experience.
Since 2012, the ICFF has grown to celebrate over 15 different local communities and attracts over 51,000 attendees. Sound Off is thrilled to have participated in this multicultural event featuring the best in international cinema!
Want to host an outdoor screening of your own? It's easy to throw a backyard movie night.
Contact us now for details.